Feelings in Yokohama" is a call-girl business in Yokohama and Shin-Yokohama, specializing in beautiful amateur girls.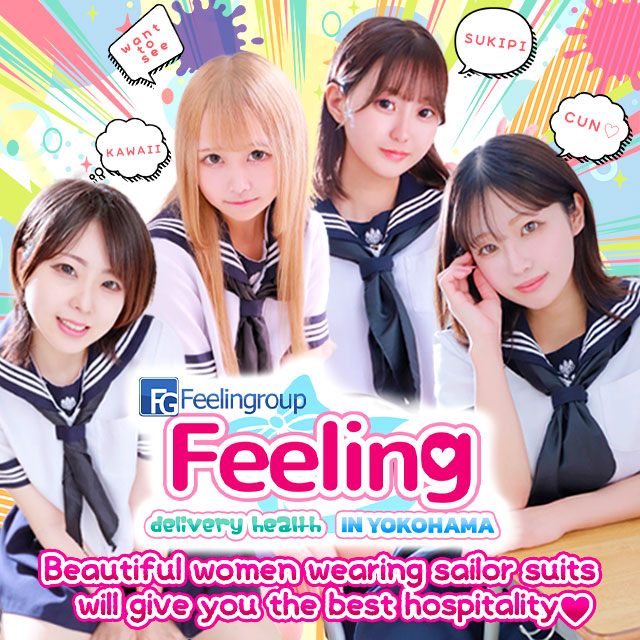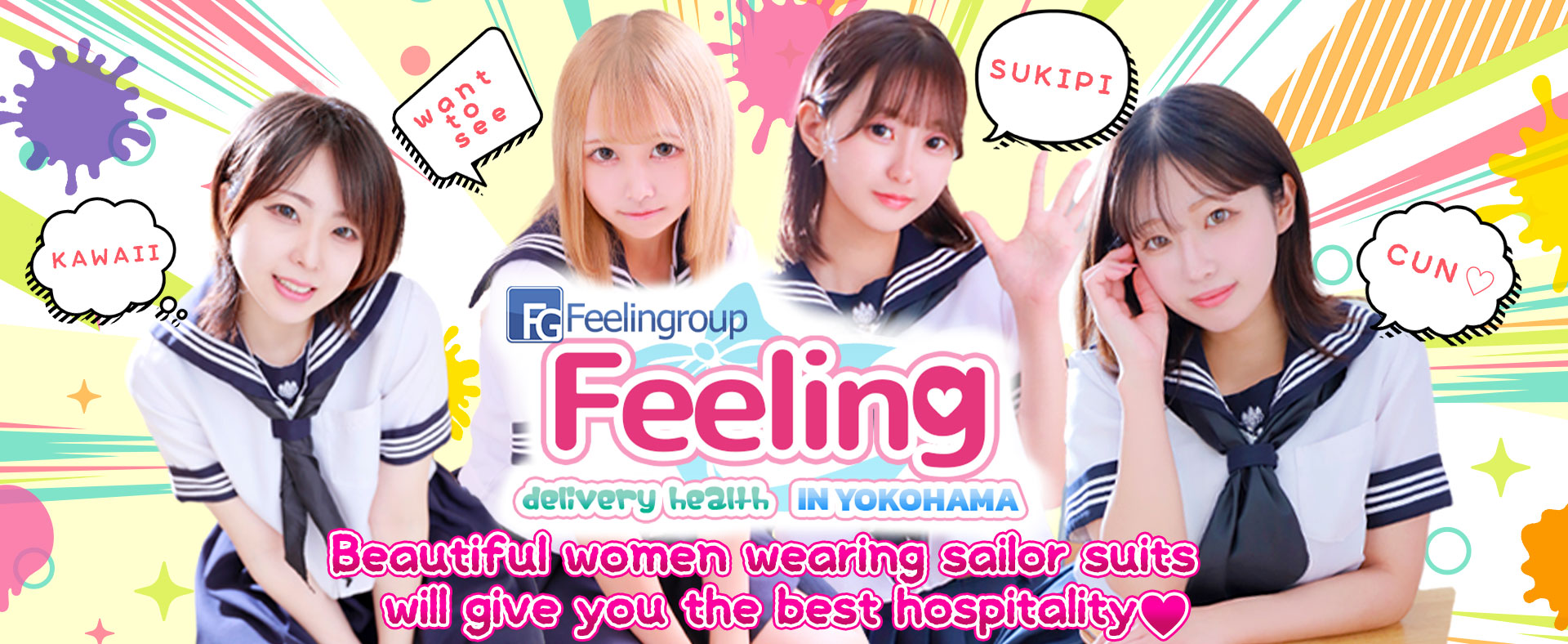 Information on adult entertainment.
If you are under 18 years old, please click here to
leave the room
immediately.
Delivery Health Service in Yokohama
Feeling in Yokohama
Kawaii girls deliver
healing
and
kawaii
to our customers.
This is the official site of [Feeling in Yokohama], which operates as Deriheru & Hotelheru mainly in the Yokohama area, Kanagawa Prefecture.
Have you ever had a customer who used Deriheru say "slim girl" or "young girl"? The girl you saw in the picture is completely different from the girl who actually came... I think there are some customers who have experienced that the girl's photo was processed too much and the face was very different from what they actually saw. The feelings of disappointment and resentment at that time do not disappear easily. Yokohama Deriheru [Feeling in Yokohama] will never make you feel like that!

From the standpoint of receiving money from customers, such a thing should not happen. We will sincerely respond to customers who use our services. With the motto of "honesty", which is not found in the sex shops that our customers have used until now, we will tell our customers the facts and always guide them to the girls they like. We will never forcefully replace or transfer girls. Of course, if there is no girl you like, I will honestly tell you so. Our shop dispels the image of distrust and anxiety that you have in a sex shop. All of our staff will work hard to ensure that our customers can use our services with peace of mind. We never tell lies to our customers. In the unlikely event that something like that happens, please contact the store manager.

<Yokohama customs and area characteristics>
Yokohama area information
Yokohama, which is the central area of &ZeroWidthSpace;&ZeroWidthSpace;[Feeling in Yokohama], is known as one of the largest cities in Japan. Yokohama Chinatown, Landmark Tower, Red Brick Warehouse, and other sightseeing spots that are visited by many people regardless of age or gender. There are also large-scale event facilities and sports stadiums, so not only tourists but also many people gather for various purposes. In addition, the area around Yokohama Station, the central station, is lined with large commercial facilities and restaurants, and is crowded with people who enjoy shopping and dining on weekdays and holidays. It can be said that it is an area that is lively all year round, not only during long holidays and other outing seasons. Another attraction of Yokohama is that it also has a side as an entertainment district where izakaya, bars, cabaret clubs, etc. are densely packed. At night, colorful neon lights brighten up the city. In addition to the shops where you can enjoy alcohol, it is also a point that there are plenty of brothels where men often go. Not only store-type sex shops such as health, but also dispatch-type delivery health is in demand and popular. It is no exaggeration to say that it is one of the leading areas in Japan that can satisfy everyone from experts to beginners. [Feeling in Yokohama] has been loved for many years in the Yokohama area. It can be used as a delivery health or a hotel health, so you can spend a rich time with a young girl not only at the hotel but also at home. Please feel free to try it.

■ Information on customs in Yokohama
Yokohama is rich in sightseeing and leisure spots, but there are also all kinds of sex shops. Deriheru, who dispatches girls to homes and hotels, can be used throughout the Yokohama area, and there are reasonable accommodation facilities, so it is very convenient. In addition to Deriheru, Yokohama also has a historical red-light district with a dense concentration of store-type brothels. Especially popular areas are Akebonocho and Koganecho, where [Feeling in Yokohama] is located. There are a lot of sex shops that have physical shops such as health shops, and only the excellent shops that have been useful to many men for many years are open. It attracts a lot of visitors not only from Yokohama but also from other regions. In such a fiercely competitive area, [Feeling in Yokohama], a hoteheru and delivery health store, has been able to become a popular store that is loved by customers. In the delivery course, we dispatch free of charge mainly in Yokohama City, including Shin-Yokohama, Kannai, and Minato Mirai, and delivery to neighboring areas in Kanagawa Prefecture is also possible. Hotelheru's reception desk is easily accessible from Isezaki Chojamachi Station and Kannai Station, so please feel free to stop by.

<Difference between Deriheru and Hoteheru>
[Feeling in Yokohama] is an easy-to-use shop that has the face of both Deriheru and Hoteheru. Here, for customers who are using it for the first time, we will introduce the difference between Deriheru and Hoteheru.

What is Deriheru (Delivery Health)?
Deriheru is a sex shop that "delivers health" as the name suggests. Dispatch destinations include your home, the business hotel where you are staying, and the love hotel. At Deriheru stores, you can make reservations over the phone or online, so the point is that you can have sex with girls without having to stop by the store directly. In addition to delivery, some shops have a "meeting course" where you go to the hotel with a girl. This is also highly recommended as you can enjoy it as if you were on a date on the way to the hotel. Even if you are embarrassed to enter a love hotel alone, you can use it with confidence if you enter with a girl. [Feeling in Yokohama] offers both "delivery" and "meeting". Please try our shop's proud girls on your favorite course.

■What is Hoteheru (Hotel Health)?
The biggest difference between Deriheru and Hoteheru is whether or not there is a reception desk. As I mentioned earlier, delivery health is accepted by phone or online. On the other hand, Hoteheru has a reception desk where you can go directly to make a reservation. Once the reception is completed, the system is to have the girl dispatched to the designated hotel, or to go to the hotel together. Many people feel that delivery health is easier to use after hearing this. However, there are benefits unique to a hotel health with a reception desk. Most of the hotels that have a reception desk allow you to see girls' photos. One of the attractions is that you can nominate a girl you like more because raw photos of girls that can only be seen there are prepared. Our shop has a reception office in Akebono-cho, Naka-ku, Yokohama. If you want to take a closer look at the raw photos of girls, we recommend using Hotel Hell.

<About [Feeling in Yokohama]>
■Characteristics of the girls enrolled
Our store gathers young amateur beauties from all over the country who look great in sailor uniforms. We are proud to have a top-class lineup in the Yokohama area, so please feel free to choose a girl. You are sure to find your favorite type among a wide variety of girls. For example, a beautiful girl with an irresistible gap, "Even though she's short and has a loli face, she has big breasts!" "I love naughty things and have outstanding sensitivity!" A young lady full of masochism, "If you look neat and clean, it's super H!" Why don't you spend the sweet and sour school life you envision with carefully selected SSS class beautiful girls? If you want to spend a wonderful time with a young girl at a delivery health in the Yokohama area, [Feeling in Yokohama] is recommended.

■ Recommended play course
Experience a more fulfilling heart-pounding health play with a wealth of additional options. Among the recommended options are the many costumes that can make school play more realistic. We have school uniforms that are perfect for young girls. However, each customer has their own preferences when it comes to school uniforms. Therefore, we have prepared sailor uniforms and blazers of different types. Miniskirt uniforms that look good on naughty brown-haired gals, elegant blazers that a neat and clean lady can wear, and so on. You can immerse yourself in a thrilling image play that will make you feel like you have returned to your school days. Also recommended are gym clothes, bloomers, school swimsuits, bikinis, and other costumes that look great in school play. The plump thighs and erotic bloomers are very soothing, and there is no doubt that the excitement level is MAX when playing with a loli girl in a school swimsuit. One of the fun things about Deriheru is that you can change the outfit depending on the type of girl. Because our store attracts young children, you can enjoy playing with costumes. For customers who want to keep the usage fee reasonable, we will guide you to "Special Three". [Feeling in Yokohama] operates with confidence in the level of the girls enrolled, so we will dispatch cute girls even if they are free. Please use with confidence. In addition, the long course "Luxury Plan" with high cost performance is also very popular. You can have your favorite girl all to yourself for a long time, so you can spend a leisurely and intimate time without rushing to play. [Feeling in Yokohama] is a safe and high-quality delivery health delivery health service in the Yokohama area. We are looking forward to your use with an exceptional price system unique to group stores and cute girls in uniforms.

<Introduction of Feeling Group stores>
Feeling Group operates many delivery health stores in the Kanto area centering on Yokohama. You can play safely and securely, the quality of the girls is high, and the price is low! All casts have been trained in the service and play know-how that they have cultivated by running several delivery health stores, so you can enjoy a highly satisfying and special experience. The main store is a store that collects S-class amateur beauties, but there are also stores where you can enjoy a rich adultery experience with an adult sister. Feeling Group will continue to devote ourselves wholeheartedly so that our customers can enjoy playing with peace of mind.
When you come to Yokohama, please visit [Feeling in Yokohama].
<Introduction of Group Stores>